Do you have a Home that Compels Buyers?
For almost all the homes the decision to buy a home is twofold, emotional
and financial. The financial is easy and objective, they meet a banker and
give their information over to them and a number is produced that guides the
price they can shop for. The emotional part is where the tire meets the road.
Once the financial is decided the process is purely emotional. There is
something or a lot of things home buyers love about the home they buy.
Many of my home buyers view between 10-15 homes before pulling the trigger on a home. Never mind the countless homes they may have reviewed on the internet.
From the moment a buyer gets a thought to buy a house, your house is being compared to a few, or to many other homes in the real estate market. From capturing a buyer's attention on the web, to getting them into your home, to have them write an offer…. what are you going to do to make your house compelling?
YOUR HOME IS COMPETING
It is important to realize your home is in competition with other homes in the marketplace. Buyers don't quit looking if your home didn't suit their needs.
When a buyer views your home, and decides not to buy your home, they have not found your house compelling enough to put in an offer. And, on top of it, many of those buyers will then go on to buy another house you are competing with in a very short period of time.
First and foremost, your home must be "Right Priced", this means when compared to other comparable homes your home shows as a good value vs. price, to determine the right price we look at other recently sold homes of similar size, features, condition, and amenities, in yours or similar neighborhoods.
WHAT MAKES YOUR HOME COMPELLING AND OUTSHINE THE COMPETITION?
So what makes a home compelling? There are a bunch of reasons a home is compelling but we are going to talk about the big rocks in the pond that will make a home compelling to a large group of buyers and hopefully stand out.
PRICE
Price has a lot to do with what makes a home compelling. A home could be compelling to a large pool of buyers at $220,000 but at $230,000 no one will be interested.
First and foremost, your home needs to be in the proper price bracket to be compelling. Without being priced according to what the market will bear your home will sit on the market unsold.
LOCATION
Most buyers want the same thing. They want a home on a street that is peaceful or a neighborhood where only people who live in the neighborhood come and go. The farther you get away from that the less compelling your house will be.
Understand buyer's may not be looking in your town alone. They could be looking for home in nearby communities that have comparable homes in their price range, which certainly broadens your competition.
You can't fix location. The only way you can address a less than desirable location is by adjusting the price. Be realistic about your homes location compared to the competing homes in your market.
CONDITION
When buyers shell out $250,000 or $350,000 on a home they do not usually want to move in and must start making large repairs. Leading the pack in condition is roofs, electrical and HVAC. These items are a major expense as well as being repairs that can't be ignored.
A home in pristine condition impresses buyers. The thought of moving into a home and not spending weeks or months or even years of improvements is very compelling.
Look around do any major repairs need to be done? What about a bunch of little things? A pre-listing home inspection can provide you a list of items that you may want to consider repairing to show your home has been well cared for.
LEVEL OF UPDATES
Leading the list of updates are kitchens and baths. Kitchen and bath remodels or renovations are major projects that can be quite costly. But for many home buyers nothing is more compelling than a buyer walking into a home with an updated kitchen, with current counter tops, flooring and a splendid work flow.
But it can go farther than just kitchen and baths. Updated colors in your home can go a long way. Not only are updated color choices compelling on the wall it carries thru to carpets, decor, appliances, fixtures etc.…
While your home could have good bones, and be in great shape, the level and quality of the updates add the sizzle you need to compel buyers to buy.
The updates you have done or do to your home to get it listed is totally in your control. You can do the updates or adjust your price accordingly.
HOME STAGING AND DECOR
This is kind of a broad category but it covers everything that puts your house in the best showing condition possible from an aesthetics standpoint. It covers your homes curb appeal, cleaning your home from top to bottom to make it sparkle, to depersonalizing and neutralizing your home as well as de-cluttering, packing up and fixing all the little nuisance repairs
The goal of home staging is to make your home appeal to the broadest number of buyers possible. Besides preparing your home with the basics of cleaning de-cluttering and such… it could require removing furniture and decorative items as well as potentially re-arranging furniture to highlight the features and benefits of your home.
Again, this is something completely in your control. The more effort you put into preparing your home the more you will get out of the sale of your home.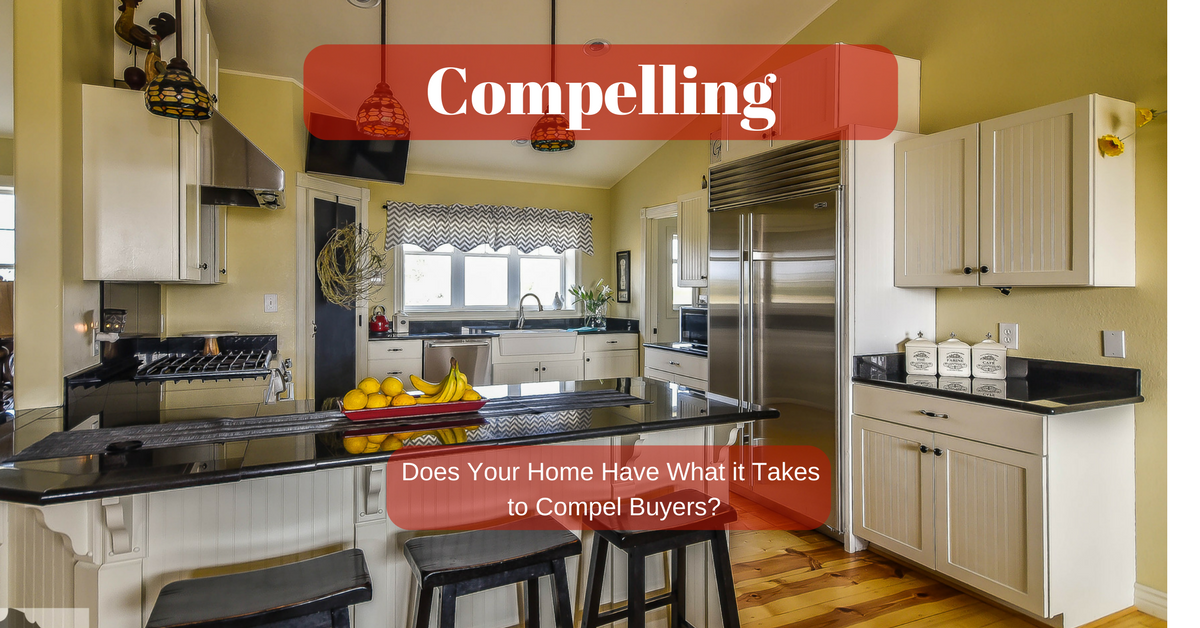 SO IS YOUR HOME COMPELLING?
Keep in mind that your home is in competition with all the other homes for sale in your price rage. Your home needs to be a shining star and stand out as the diamond in the ruff to as many potential home buyers as possible.
When you hear of homes that have offers the first few days on the market the home sellers have done many or all of what I have discussedhere as to what makes a home compelling. They are market leaders.
Most of what makes a home compelling is completely in your control except for location which you adjust accordingly in your pricing.
As a seller it is easy to let emotion take control thinking your house is special. While your house is special to you it also must be special or "compelling" to a buyer. At the end of the day it is you AND the buyer that decides what a fair price is for your home when they step up to the table and pay a price you are willing to accept.
A home really sells itself based on price, location, condition, updates and it's showing preparedness.
Is Your Home Compelling? How Does It Stack Up To and even outshine the Competition?
Provided By Kevin Vitali of EXIT Group One Real Estate of Tewksbury MA
Edited for Local Markets by: Eric Paul of Heart Mountain Realty (307) 754-9631 or email me at eric@heartmountianrealty.com
Serving the following areas Powell WY.,Cody WY.,Lovell WY.